About UNITED EARTH
THE NEW NOBEL LEGACY
A GREEN EARTH PRIZE IN EARTH ETHICS
United Earth is a not for profit non-governmental organization which recognizes and promotes environmental leadership and humanitarian excellence worldwide. Founded in 1974 by Claes Nobel, descendent of Nobel Prize creator Dr. Alfred Nobel, UNITED EARTH focuses global efforts, resources and programs on an unprecedented challenge: uniting the people and nations of Earth in forging our collective, sustainable future.
Inspired by the legacy of his uncle and by the 1972 United Nations Conference on the Human Environment, Claes Nobel is a man of vision who is able to see new solutions to age-old world problems. For three decades Claes Nobel has crossed borders, ideologies and societal differences, bringing people together to address common environmental issues.
About Dr. Alfred Nobel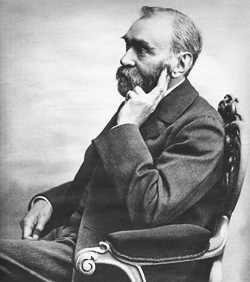 Dr.Alfred Bernhard Nobel was a Swedish chemist, engineer, innovator and the inventor of dynamite. Dr. Nobel's greatness lay in his ability to combine the penetrating mind of the scientist and inventor with the forward-looking dynamism of the industrialist. Dr. Nobel was very interested in social and peace-related issues. He had a great interest in literature and wrote his own poetry and dramatic works. As an extension and a fulfillment of his lifetime interests, in his last will, Dr. Nobel used his enormous fortune to institute the Nobel Prizes.
Winning a Nobel Prize is a life-changing honor. The award brings with it worldwide recognition that highlights one's life work and provides the funds to continue and further one's mission. For academics and institutions, a Nobel Prize is used to attract the best and the brightest minds, whether students or scholars.
---
Alfred Nobel's Last Will and Testament
Swedish inventor and scholar Alfred Nobel created the Nobel prizes in his will, written in 1895, bequeathing his fortune to a fund that would honor
"Those who, during the preceding year, shall have conferred the greatest benefit on mankind."
Nobel's will specified that the prizes be divided into five equal parts, apportioned as follows for the physics, chemistry, medicine, literature and peace prizes:
"One part to the person who shall have made the most important discovery or invention within the field of physics; one part to the person who shall have made the most important chemical discovery or improvement; one part to the person who shall have made the most important discovery within the domain of physiology or medicine; one part to the person who shall have produced in the field of literature the most outstanding work in an ideal direction; and one part to the person who shall have done the most or the best work for fraternity between nations, for the abolition or reduction of standing armies and for the holding and promotion of peace congresses."
The Nobel Foundation was created to manage the capital in Nobel's estate. Since 1901, the year the first Nobel Prizes were awarded, the Foundation has funded the prestigious awards created by their namesake. The Nobel Prize for Economics, the only award not included in Nobel's will, is funded by the Swedish Central Bank, which created the prize in 1968. It was first awarded in 1969.
About the United Earth Seal
The Seal of United Earth illustrates the holy circle of life.
The bird represents clean air
The fish symbolizes pure water
The deer connotes animals
The tree represents natural resources
The wheat symbolizes food
The human being stands for the well-being of all human kind
The surrounding olive laurel wreath signifies that all of earth is sacre
Through this icon United Earth unites all of humanity in the reverence of life
The protection of our blue-green home in space
As the home of our dynamic, symbiotic well-balanced and peaceful planet
United Earth stands for the quality of life for all forms of life
Directors and Global Ambassadors
CLAES NOBEL
Chairman and Founder
A senior member of the Nobel Family, Claes Nobel is a native of Sweden and the great grand-nephew of industrialist Dr. Alfred Nobel, creator of the famed Nobel Prize. Claes Nobel is the author of the Nobel Laureate Declaration On The Survival of Mankind and more recently The Global Declaration of Earth Ethics  dedicated to promoting world peace, human unity, and environmental responsibility.  Mr. Nobel is the Founder & Chairman of United Earth and The Green Earth Prize for Earth Ethics the Co-Founder of the National Society of High School Scholars (NSHSS)
EMMA FARR RAWLINGS
Director-Global Ambassador
Emma has a Masters degree in Cultural Anthropology and Clinical Psychology and a Ph.D. in Behavioral Sciences from International College, West Los Angeles and Ryokan College. Emma was also an Adjunct Professor at JFK University and taught Presence in Coaching. She became an ICF Master Certified Coach in 2007. She has been a consultant, coach and trusted advisor for over 38 years in the San Francisco Bay Area as well as internationally, serving the technology and media/music industries, spiritual leaders, eco-leaders, and VIPS in many fields. She retired her Transpersonal Psychotherapy practice of 38 years in 2014.
Emma Co-Founded CC3IC in 2013. She served as a Steward on The Aspen Grove which facilitated a retreat/meditation space for VIPS to sit in silence and to share from non-ego. Emma is also a member of the Founding Circle of Women's Earth and Climate Action Network.(WECANinternational.org). She continues to be a life-long meditator and devotes her life to service. She is currently in the midst of a project which aims to transform life for all on the planet.
SPAR STREET
Director-Global Ambassador
Spar Street's work has been featured in solo and group exhibitions nationally and internationally in galleries and cultural centers, including Art Miami, Miami Beach, Florida; Art Miami Context in Miami Beach, Florida; Hay Hill Gallery in London; Alp Galleries in Frankfurt, Germany; SCOPE in Basel, Switzerland; Gallery 1949 in Aspen, Colorado; the Museum of Contemporary Art in San Diego; the Hansen Galleries in New York City; Gallery Rodeo in Beverly Hills, California; the Pam Driscoll Gallery in Aspen, Colorado; Gallery Duval in Key West, Florida: GRAMMY Art of Music Gallery in Las Vegas; Plaza Galleries, Whistler, B. C., Canada; Artesia Gallery in Vail, Colorado; Richard Thomas Galleries in Park City, Utah and San Francisco; J. R. Fine Arts in Scottsdale, Arizona; International Art in Miami; FACT Gallery in Laguna Beach, California; the Masterpiece Gallery in Boca Raton, Florida; the Rendez-Vous Art Gallery in Vancouver, B. C., Art Link in Sydney, Australia; and Art Gallery Masajiro in Tokyo.
In addition, his work is in private, corporate, and public collections including those of Sir Richard Branson, Ted Turner, Andre Agassi, Richard Gere, The United Nations, The Virgin Group, Bank of Hawaii, Canadian Imperial Bank of Commerce, Neiman Marcus Group, HSBC, The Seagram Company, Pan Pacific Hotels, Nike Corporation, Federal Express., the B. C. Children's Hospital, Columbia Academy, Lions Gate Hospital, Shaughnessy Hospital, Simon Fraser University.
Spar has worked with the United Nations Entity for Gender Equality and the Empowerment of Women by honoring them with the Agent of Change Award. An iconic crystal sculpture to capture the concept of movement and transformation, of striving and progress, for the achievement of gender equality and women's empowerment.  The 2017  award was presented to H.H. Sheikha Fatima Bint Mubarak.
WILLIAM "MICKEY" STEVENSON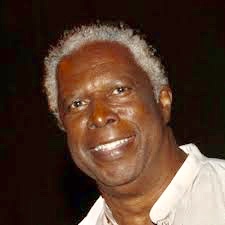 Director of Entertainment
Songwriter and producer William "Mickey" Stevenson was one of the unsung heroes behind the extraordinary success of the Motown sound. As the label's first A&R director, he not only recruited major stars like Martha Reeves, but also assembled the company's legendary roster of studio musicians, additionally authoring a number of perennial hits for acts including Marvin Gaye and wife Kim Weston. Stevenson began his career in gospel and doo wop before joining the Tamla/Motown staff in 1959; in addition to co-producing and arranging records for Marv Johnson, the label's first recording artist, his earliest duties included organizing the company's house band. Installing pianist "Ivory" Joe Hunter as bandleader, Stevenson brought together a truly remarkable (albeit relatively unknown) group of Detroit-area jazz and club musicians, including bassist James Jamerson, guitarists Robert White and Joe Messina, and drummer Benny Benjamin. Though their lineup changed frequently in the years to follow, the so-called "Funk Brothers" remained the bedrock of the Motown sound.
MARCUS NOBEL
Executive Director
Executive Director & President of United Earth, Inc. Marcus has worked as Executive Recruiter for Management Recruiters International, recruiting for executive search projects in Los Angeles, New York, London, Cairo and Sydney. Director of Project Management for Global E-Tutor, Inc. A K-12 distance learning E-commerce website, based in Atlanta, GA.  Financial News Network, Inc. Assistant Director, Santa Monica, CA.  Project Management Professional Training and Certification: Project Success, Young, Clark and Associates, Atlanta GA.  CA.  University of Wisconsin, Milwaukee. BA Journalism/BAG-4, 1982.
Marcus received a Cinematography Fellowship from the American Film Institute in Los Angeles, and is an experienced writer, producer and director. He holds dual citizenship in the U.S. and Sweden. He is the Publisher and Editor of the  Earth Ethics Forum, advancing Earth Ethics, World Peace and Sustainable Development.
###