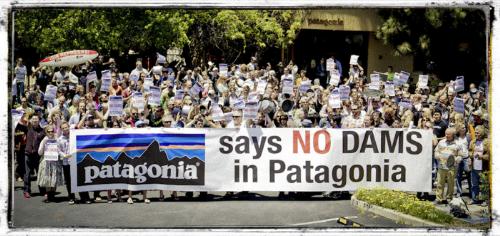 Armed with pots and pans, 500 employees stage Chilean-style protest at company's headquarters in Ventura, CA
VENTURA, Calif., May 23, 2011 /PRNewswire/ — Patagonia Inc., the enviro-minded apparel company, staged a peaceful 500-employee-strong cacerolazo – a Chilean-style protest developed in the Pinochet era where citizens bang pots and pans in loud opposition – to protest the Chilean government's approval of a multi-national energy company to construct five huge dams in the area of southern Chile that inspired Yvon Chouinard to name the company Patagonia.
Employees came armed with double boilers, frying pans and casserole pots. Banging on cookwear in noisy opposition, the employees protested to show solidarity with the thousands of Chileans protesting in Chile this week. Recent polls show that over 74% of the Chilean population is opposed to the dams. An estimated 30,000-40,000 people first turned out in Santiago, Chile, last week against the damming of their rivers. This week, thousands more will converge in Chile to show public opposition. Company officials organized the impromptu gathering because of Patagonia's long abiding connection to the area that is its namesake.